We know that from a consumer standpoint when comparing carpet steam cleaning and carpet dry cleaning, steam cleaning your carpet is by far the most popular and requested choice of all carpet cleaning methods in Sydney.
Which Carpet Cleaning Would You Choose?
The finished product, after it has been completed by a certified carpet steam cleaning service such as Metro Carpet Cleaning is by a quantum leap, vastly superior to any other carpet cleaning method. It is the benchmark and requested standard requirement by all real estate, strata body corporates and property managers.
The major benefit with carpet steam cleaning is the wonderful heat generated from carpet steam cleaning machinery. Not only does the heat factor assist in the breakdown and extraction of soiling, but it also assists in the sanitising process by disinfecting and de-contaminating any microbial activity that may be present within the carpet pile whilst carpet steam cleaning.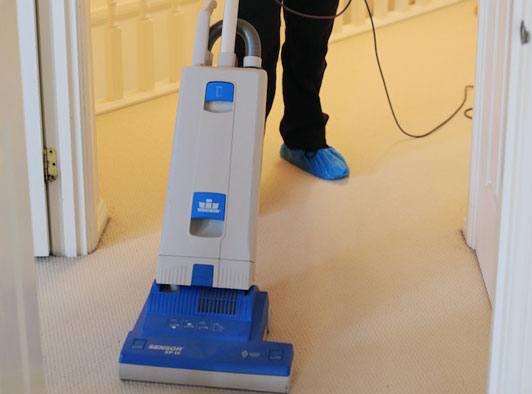 If pets or human fluids are present in carpet, the hot water extraction process is the only reliable process to completely remove dust mites, allergens, disinfect and decontaminate the affected carpeted areas from any present bacteria. This is accomplished by using a carpet steam cleaning anti-microbial sanitiser product in combination with a hot emulsified solution in the carpet steam cleaning machinery rinse tank proceeding to thoroughly wash through and extract from the carpet pile by utilising the heat and hot solution generated from the carpet steam cleaning machinery.
If there are heavily soiled traffic areas present in walkways or thoroughfares, it is imperative that a hot water carpet steam cleaning extraction method is used with a strong alkaline pre-spray solution to counteract the in-ground soiling that is embedded and present in carpet piles that are extremely difficult to remove. Always keeping in mind that an emulsifier surfactant rinse MUST be used in all processes of the carpet steam cleaning method to ensure that all carpeted pile is thoroughly rinsed, washed through and ready for drying.
This is a step in the carpet steam cleaning process that MANY carpet steam cleaning companies do not use simply to save on cost and in turn delivering an inferior finished steam cleaning product.
The Carpet Dry-Cleaning Method (and why you would consider it).
What differentiates carpet steam cleaning and carpet dry cleaning is that there are 3 different carpet dry cleaning methods, however of the 3 different types, there are 2 methods that still use some form of moisture component in their dry-cleaning process.
The carpet dry cleaning process main benefits are its accelerated drying times (usually in less than 1 hour) and its function as an excellent maintenance service, which can be utilised usually in between carpet steam cleaning schedules, in particular during the Winter months when carpet can always take an extended period and very long time to dry. It is especially useful in areas of business that require almost instant drying times for example, hotel or business reception foyers, pubs, clubs, offices, etc.
Method 1- The Dry Powder.
This cleaning method uses an absorbent compound which is chicken fed over the carpet or applied using a machine. It contains a miniscule amount of water, solvent, detergent and an absorbent carrier. The theory behind this process is that the compound acts like thousands of tiny micro sponges dissolving and then absorbing any soiling and dirt that is present in the carpet pile. After a very short drying time, the attracted and absorbed soil is vacuumed away.
The Pros – You can walk on the carpet almost "immediately" because there has been no water added to your carpet, so no drying time is involved.
The Cons – Difficult to completely remove all of the cleaning product residue left behind after cleaning, which in turn causes rapid re-soiling, making it dirtier a lot sooner when compared to a carpet cleaned after using the steam cleaning process.
Method 2 – Encapsulation Cleaning.
This is by far Metro Carpet Cleaning's preferred approach when discussing a dry-cleaning option with the consumer or business client. This method uses a polymer detergent encapsulation solution applied with a rotary agitation machine. This process takes approximately 20 minutes for the encapsulators to bind to soil particles, crystalise and eventually dry. These particles are then vacuumed out of the carpet pile.
The Pros – Allows you to walk on the carpet straight after vacuuming, low water usage without carpet becoming over saturated, very effective at lifting dirt and stains and also very effective at continually absorbing soils even after cleaning. This post clean process ensures that soil is continually being removed and the carpet is becoming cleaner as time progresses just from periodical vacuuming.
The Cons – The rotary action of the carpet scrubbing brush can burn the carpet tips and possibly damage delicate fibres, so a highly experienced and certified operator is required to ensure the correct amount of solution is applied during the scrubbing process to create essential lubrication. This method is an excellent maintenance and restorative cleaning system for commercial and domestic applications.
Method 3 – Bonnet Cleaning.
This is the most recognized carpet dry cleaning method by any consumer who has had a dry-cleaning system done at their premises in the past. Unlike the encapsulation method, it uses a non-foaming detergent that in some cases can be even soda water based. The carpet is initially pre-sprayed with a solution using a pump-up sprayer and is then agitated with a rotary scrubbing machine using an absorbent pad attached.
The theory behind this cleaning system is that the dirt and soil are suspended in the cleaning solution and the pad absorbs all of it up. Like the 2 other dry-cleaning methods, it is followed up by a vacuum once the carpet is dry to release as much residual soiling and product possible.
The Pros – Very fast drying time with very minimal water usage. It is very easy however, for an inexperienced operator to still over saturate carpets if excessive solution has been applied.
The Cons – This type of carpet dry cleaning is only a surface clean. It does NOT penetrate deep down into the carpet pile to remove stubborn soiling or stains and is very easily prone to rapid re-soiling with stains and marks tending to reappear after a short time as they can attract soiling and dirt back to them.
Conclusion
Carpet steam cleaning or hot water extraction (as it is technically known), is the only carpet cleaning system recommended by most, if not all carpet manufacturers, insurance companies for restorative carpet cleaning, body corporates, real estate and managing agents and is the only, truly restorative cleaning method that is recommended and recognized by the Australian and New Zealand carpet cleaning standard of AS/NZS 3733.
Obviously in saying all of the above, all consumers have different needs and requirements when it comes to cleaning their carpets and there is no sure fire "perfect" carpet cleaning system. That's why Metro Carpet Cleaning & Restorations offer the option of dry carpet cleaning as part of our suite of services, to fill this particular need or requirement, should it ever arise for our clients.
Click here to contact us or call on 1300 300 243.